Vegetarian Breakfast Tacos
Click here to jump to the recipe
I know what you're thinking, "another taco recipe!?" but, I didn't plan on it being that way. I promise. I made these about a month after the shrimp tacos.

Although I have been gradually making improvements in my diet and eating habits, I still have a hard time eating breakfast. I sometimes have tea but too often I just miss the whole meal.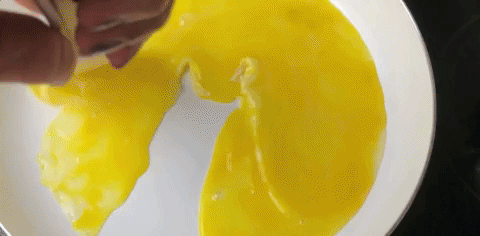 That's horrible. Breakfast is truly the most important meal of the day. Your breakfast dictates what you crave, how you feel, and when you fell it throughout the day. For example, if you had some coffee and a pop tart in the morning, you would feel energized for a short period and then feel a horrible fatigue before noon.
This is from the sudden spike and then drop in your blood sugar. Then the lack of carbs and protein in your breakfast would leave you with a growling stomach e through the first half of your work shift or class (true story🤦🏾‍♀️).
Protein makes you feel full longer, and carbs provide your main source of energy. Healthy natural sugars found in whole, unprocessed foods delivers a healthy and steady supply of glucose to the blood which prevents fatigue and a sugar crash. This is why energy drinks are trash.
This is also why I need to start eating breakfast at least 4 of the seven days in a week. Smh I try.
Any who's I wasn't in the mood for a sweet breakfast, so I made these high protein morning tacos. In hindsight, I probably should have made these with only egg whites but I hate to separate eggs without a use for the yolks, and I didn't have a carton of whites on hand that week. Making whites-only tacos slashes 54 calories per serving, about 5 grams of fat,
Disclosure: Bear in mind that some of the links in this post are affiliate links and if you go through them to make a purchase I will earn a commission. Keep in mind that I link these companies and their products because of their quality and not because of the commission I receive from your purchases. The decision is yours, and whether or not you decide to buy something is completely up to you.
Vegetarian Black Bean Breakfast Tacos
Whole wheat tortillas topped with cumin spiced black bean purée, scrambled eggs, bell peppers, fresh tomato salsa, cortina cheese, cilantro and avocado
Servings
1
serving of 2 tacos
Ingredients
Fresh Salsa
1

Whole

Lime Lime

Juiced

3

Whole

Roma tomatoes

Diced

2

Tsp

garlic

Minced

1/2

Small

red onion

Diced
Black Bean Sauce
1

can

low sodium black beans

rinsed

1

small pinch

kosher salt

1/2

tsp

black pepper

1

tsp

ground cumin

1/2

small

white onion

diced

1

Whole

Bay leaf

1

tsp

Red chili flakes

Optional

1/2

c.

veggie stock
Toppings
6

Lg

Eggs

1 per taco

6

Ea

Whole wheat tortilla shells

8-inch

1

Whole

Avocado

Sliced or diced (I used 1/4 avocado for 2 tacos)

1

whole

red bell pepper

sliced

1

whole

yellow bell pepper

sliced

2

tbsp.

olive oil
Instructions
Toppings
If you plan on eating this for a few days like I did, I recommend you saute all of your onions and pepper at once. Just coo in a skillet over medium heat with 1 tbsp of olive oil per batch. I suggest you cook in batches because if you crowd the pan the peppers will begin to steam and won't get any caramelization and color.
For the Salsa
In a small bowl combine garlic, lime juice, black pepper, diced red onion and diced tomatoes. Cover with plastic wrap or place in an airtight container and refrigerate.
For Black Bean Puree
In a small saucepan combine onion, salt, veggie stock, bay leaf, chili flakes, black pepper, cumin and black beans. Place over medium heat and simmer for about 15 minutes. Remove from heat and allow to cool. Once cooled discard bay leaf and puree the bean-onion mixture in a blender until smooth. Store in an airtight container.
To assemble the Tacos
To make the tacos, place about 2 tbsp. of the black bean puree on to a tortilla shell and top with a couple of slices of bell peppers. You could warm the tortilla with toppings in a skillet or just pop it into the microwave. while it's heating scramble one egg with a pinch of salt.

Top the warmed black bean-covered tortilla with a few slices of avocado, scrambled eggs, cilantro, and salsa. Fold and enjoy!
Nutrition Facts
Vegetarian Black Bean Breakfast Tacos
Amount Per Serving (2 tacos)
Calories 437
Calories from Fat 195
% Daily Value*
Total Fat 21.7g 33%
Cholesterol 193.5mg 65%
Sodium 616mg 26%
Potassium 414.7mg 12%
Total Carbohydrates 43.5g 15%
Protein 18.6g 37%
* Percent Daily Values are based on a 2000 calorie diet.